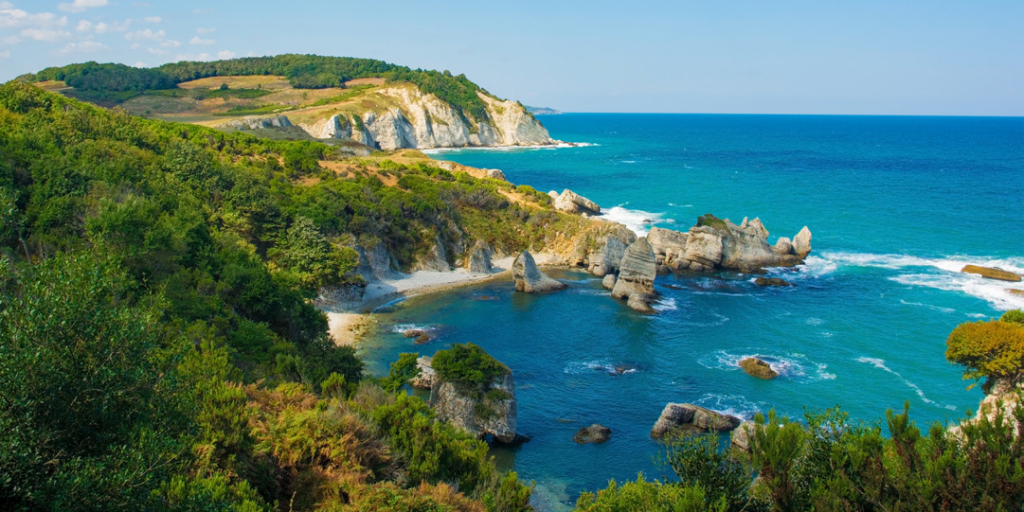 Birdwatching Tower
Birdwatching Tower
Next to the natural landmark White Rocks is the Birdwatching Tower, which is the third waypoint on the Red Route. The tower is a two-floor wooden structure with a total height of 8.16 m from the ground. The access to the floors is by wooden steps, which overcome the elevation between the levels.
It is an open structure without a roof. The wooden columns in the corners of the tower are placed on single reinforced concrete foundations. The two levels are secured with wooden railings with a height of 1.10 m.
The birdwatching tower offers an incredibly beautiful panoramic view of Cape St. Atanas and the Black Cape. Here is where the Via Pontica flyway passes – one of the main bird migration routes from Europe to Africa. Birdwatching can take place at any time of the year. Spring is a very favourable season. The migration flights are mainly in the morning, but some species fly over at night.
Trips in the early morning under the guidance of experienced specialists are recommended. The flights of the typical for the territory red-backed shrikes, pied and isabelline wheatear, European shag, alpine swifts, rosy starlings, calandra and greater short-toed larks and cranes can be watched from the tower. It is recommended that the initial observations be made under the guidance of an experienced expert birdwatcher.
The birdwatching tower is one of the places from which lovers of photography and photo- tourism can unleash their creative potential. The natural characteristics of the site selected for the construction of the birdwatching tower and the opportunities it offers reveal impressive views. Depending on the studied data and the characteristics of the passage of the different species of birds, specialized cycling tours oriented predominantly to photographic activities can be planned by day and time.
Photo-tourism enthusiasts can choose the right time and desired weather conditions for capturing natural landscapes. Light, depth and location of the objects and weather conditions are essential for landscape photography. The intensity, colour and direction of light change due to factors such as different times of the day, seasons, humidity, angle of the sunlight, cloudiness and geographic location.

The combination of the challenges of the beautiful natural environment, the vast expanse of the sea, the panoramic views, the diverse plant species and the unique opportunities Via Pontica offers make the birdwatching tower a significant attraction for photographers, nature lovers, scientists and professionals not only from the municipality of Byala, but also at regional and national level.
The place is conducive to the use of the most important elements of landscape photography – depth, application of the wide angles technique and creation of a dramatic foreground.

Interactive Map